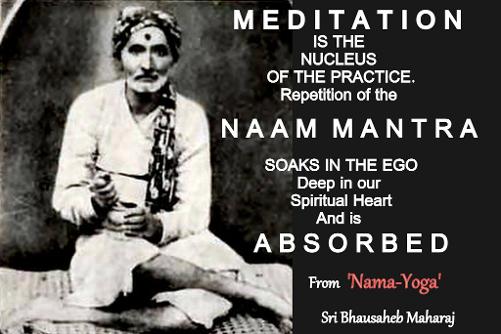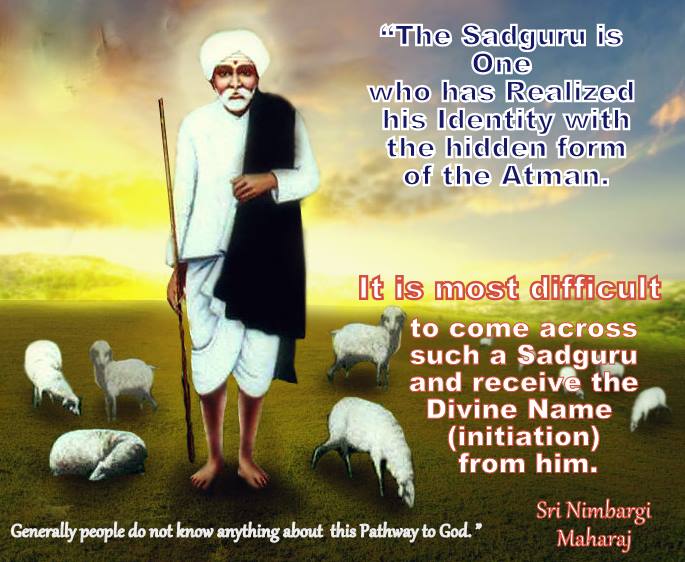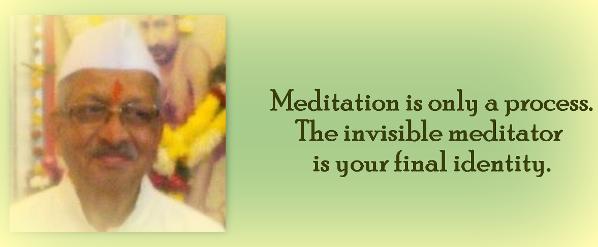 From Nisargadatta Maharaj 'Nothing is Everything':

"THE MANTRA REMINDS YOU OF YOUR TRUE IDENTITY. YOUR PARENTS GAVE YOU A CERTAIN NAME AND CALLED YOU BY THAT NAME. MANTRA IS CALLED NAMA ('NAME') MANTRA IE CALLING YOURSELF AS YOU ARE IN REALITY. THE MANTRA IS VERY POWERFUL AND EFFECTIVE. MY GURU GAVE ME THIS MANTRA AND THE RESULT IS ALL THESE VISITORS FROM ALL OVER THE WORLD. THAT SHOWS YOU ITS POWER."
Maharaj Speaking on the

Naam Mantra
In our lineage, [the Inchegiri Navnath Sampradaya], we give a mantra, some words, and we are (silently) chanting these words. This same mantra has been passed down from Master to Master for a thousand years, going back to Dattatreya. The Master places his hand on the disciple's head. The mantra is then whispered in the disciple's ear. If the disciple has full faith in the Master and the mantra, some power is transmitted.
The Mantra is not given to those who already have a Master. You must stay faithful to one Master only. The Mantra which is called the 'Master Key', is to be kept secret. YOU MUST NOT REVEAL IT TO ANYONE. So, how does it work? The spirit is very sensitive. Whatever is impressed upon it, is automatically reflected. You have forgotten your Real Identity, so the mantra reminds you of this. The meaning of the Mantra is 'I AM BRAHMAN, BRAHMAN I AM'. The Mantra produces vibrations within you, and through these vibrations, as you continue to recite the mantra, you will come to know the Reality.

Slowly, silently and permanently, after concentrating, you will feel some changes within you. Your body knowledge will be dissolved. You will be totally fearless because you will know "I am not the body".
ALL NEEDS ARE BODY-RELATED NEEDS: NEED OF GOD,
NEED OF FOOD, NEED OF HAPPINESS, NEED OF PEACE

all are body-related. When you came across with the body, all needs started.
PRIOR TO BEINGNESS, NO NEEDS WERE THERE,
NO FEAR WAS THERE.
That said, look after the body, do your job, do your duties. Do not neglect your body. This is a precious opportunity.
Meditation is the base, the starting process to ensure that a perfect foundation, a strong foundation is laid. As you recite this mantra,
YOU ARE REMINDING YOUR 'UNIDENTIFIED IDENTITY',
THAT YOU ARE ATMAN, BRAHMAN, PARAMATMAN.
You know Reality, but you have forgotten Reality.
Everybody has the Knowledge of their Reality within them, but
THIS PROCESS OF MEDITATION
IS NEEDED FOR CONVICTION,
TO ESTABLISH AND ABSORB THE KNOWLEDGE.
Dry knowledge, bookish knowledge or
literal knowledge is not Self-Knowledge.
MEDITATION ALONE WILL LEAD TO SELF-KNOWLEDGE.
People ask the question "Who is reciting?" The question comes because you have body attachment. There is no 'Who?', there is no 'He', 'She'. There is nothing. These are just the terms, the body-related terms.
WHO IS RECITING THE MANTRA?
THE CONCENTRATOR, THE INVISIBLE PRESENCE.
Why are you reciting it? Because you forgot your identity. While reciting,
YOU ARE INVITING THE ATTENTION OF
THE 'INVISIBLE PRESENCE' – YOUR ULTIMATE TRUTH.
So at the initial stage, you have to recite it deliberately. After continuous reciting, it will happen spontaneously, without your knowledge for 24 hours – waking, dreaming, all the time. The terms 'he', 'she', 'it' are only used for understanding purposes.

Guessing, logic or inference are not applicable to the task of knowing yourself in a real sense. Why?
BECAUSE YOUR EXISTENCE IS 'SPONTANEOUS EXISTENCE'. How were you prior to Beingness? How will you be, after leaving the body? What is your identity? Here, we conclude, that the identity is the same as it is today. The only difference is that you are holding the body. So, again, I repeat, body knowledge has to be erased completely, and for this to happen, you have to meditate.
When you operate the Master Key (Naam Mantra), with deep involvement, it is bringing you closer to Selfless Self and you feel happy. The spontaneous happiness is the fragrance of Selfless Self. This means that the Knowledge is being absorbed. So you are to embrace Selfless Self and go deeper and deeper.
You see, when you go deep and deep within the Selfless Self, you will find so many things beyond your imagination. You will forget this external and internal identity.
YOU WILL REMAIN UNKNOWN TO YOU. NO KNOWLEDGE IS KNOWLEDGE. NO KNOWLEDGE IS KNOWLEDGE.
"
WHATEVER KNOWLEDGE IS ROOTED TO THE BODY IS ILLUSION. YOUR KNOWLEDGE OF BRAHMAN, ATMAN, PARAMATMAN IS ALSO ILLUSION.
These are just the words, only W-O-R-D-S. It is OK, maybe giving you some pleasure, momentary happiness, a little entertainment,
BUT IT IS NOT ULTIMATE TRUTH."
~~~~~~~
THE NAAM MANTRA IS VERY IMPORTANT
"The Naam Mantra is very important. People say "I have got knowledge, why do I need the Naam mantra?"That's OK, but if you want to know yourself perfectly, if you want to identify yourself perfectly, the process of Naam Mantra is most, most important. Humanity is having a lot of knowledge about Brahman, Atman, Paramatman, all these things, but it is not practical. It is just knowledge for discussion, it is dry knowledge.
Some followers of Nisargadatta Maharaj say they have practical knowledge without the mantra. They claim to have found the absolute state without the Naam Mantra. But it is not a question of finding the ultimate stage, because whatever is found, is found against the backdrop of body-based knowledge. Here, (Maharaj points to his body), the body-based knowledge is here, inside. So, unless it is dissolved, whatever you are building on top of it, will collapse. It is the basic, fundamental requirement. Knowledge cannot be built on the body-base foundation.
People who are attending to spirituality, without the Naam Mantra, and saying "I've got knowledge", it's OK, but it is only a temporary relief. You need to dissolve the body knowledge first and for this we have the help of the mantra. So one should undergo this process.
For example there was this great philosopher and politician, about 65-70 years old, who had spent about 5 or 6 months discussing spiritual matters with Maharaj(ie Nisargadatta). He was very well-read in philosophy, the Vedas, Janeshwar, Tukaram, etc, etc. Then one day, he announced to Maharaj, "I know your knowledge very well, but, it is not so impressed inside me.
Nisargadatta Maharaj used the analogy of a creeper/climber plant to respond: "You know the creeper plant that grows on walls? How did it grow like that? It is because the seeds were planted and took root under the enclosed ground in the correct environment(ie beside a wall to hold on to). So like that, spiritual knowledge should be rooted through Masters only (Master is like the wall). If you try and plant the creeper seed elsewhere, it won't work."
Ramakant Maharaj continues: "So, you must follow this guru mantra process, at the initial stage. It makes the perfect foundation for your spiritual knowledge. But everyone has different opinions. My Master never insisted on any person - whether he was great or famous or foreign – to, say, "take the mantra and be my disciple". It happened spontaneously, like with the politician I mentioned. He decided for himself, and said to Nisargadatta Maharaj, "Now, I want to take the Guru Mantra". For him, it became important and essential.
There's other ways of reaching the Absolute, like if you have strong devotion (Maharaj makes a fist and shakes it in the air), like Ekalavya (from the Mahabharata). So it is not impossible to do it by another way. But casual reading and casual enlightenment is not so easy.
We need total involvement, with a strong desire to find out, like "Yes, I want to know the Reality. I HAVE to know". And you HAVE to surrender totally to the Master – whosoever the Master may be. That is also very important. If the Master is not in the body, still even if his presence may not be there in life, if the involvement is very strong, then it is also possible.
But perfect devotion rarely happens. It is difficult because there should not be any type of dual mind. And like my Master, I am not insisting on anything. So many people are coming to me, but I am not insisting that they take the Mantra, the Guru Mantra, that they be my disciples. With them, I am openly discussing all the spiritual secrets. I am not keeping anything to myself. I am giving them all the secrets. What effect all this Knowledge has on them, that is up to them.
Some people are impressed deeply, others not so much. Some feel it is important to take initiation and others are not interested. So it is different for everybody. Also, it depends on their spiritual maturity. "
~~~~~~~
Meditation
Meditation is necessary because through meditation you are inviting the attention of the Meditator - that you are Ultimate Truth. You have forgotten your identity therefore you are under the pressure and influence of so many illusory concepts. So many thoughts are flowing and you have become a victim of your own thoughts.
So unless you erase all these thoughts it is not possible to know your true Identity. You are not giving importance to your Selfless Self. If you go deep and deep and deep in your Selfless Self, all concepts will be dissolved.
All concepts came along with the body only. Prior to the body-knowledge there were no concepts. The moment illusion dissolves you come to Ultimate Truth alone. Through the Meditation all your illusions are dissolved and you come closer and closer to your Selfless Self. Sri Ramakant Maharaj
And so, go deeper and deeper...
and then you will be the Selfless Self.
The Master Key – the Naam Mantra has been given to you, so there will be spontaneous calmness and happiness in you. There will not be any questions at that stage.
No question will arise at that stage. If you have any questions, you will feel the answer coming out, revealing itself. It is the Reality. So, unless body-knowledge is erased, vanishes, dissolves totally, you will not be able to know yourself in the real sense. Sri Ramakant Maharaj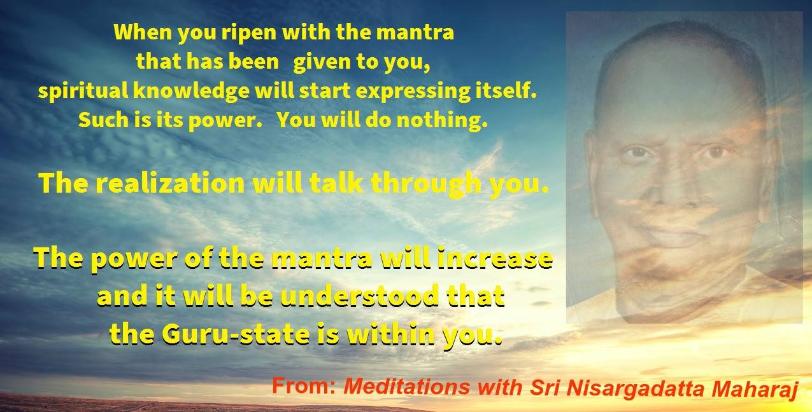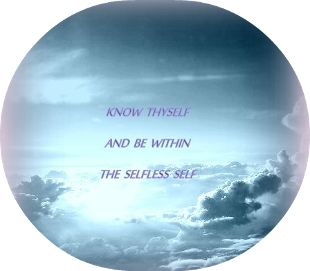 MEDITATION IS THE ANTI-VIRUS

FOR (CHRONIC) ILLUSION

"Meditation has an effect on the spiritual body. The spirit is very sensitive and has absorbed a lot of impressions. Whatever is impressed upon it is reflected. Since childhood, the spirit has considered itself as the body form: "I'm somebody else, I'm born, I'm going to die." Things out there, good deeds, bad deeds, such things like prarabdha, karma, rebirth, heaven, hell, so many concepts are there. And we sign blindly, accepting them without question.
Through meditation, these concepts are dissolved. Through meditation, you are regenerating your power and refreshing your memories of Ultimate Truth.
You forgot your Ultimate Truth and embraced the body. And because of illusory concepts, you are living as the body, under the pressure of so many concepts, illusory concepts, under all the impressions of fear. What if someone dies soon? Something might happen to me. What will happen in the future, present, past …? To dissolve all these things, meditation is required.
The words of the meditation, the meaning of the mantra is

"I am Brahman, Brahman I am".

At the advanced stage, meditation can be discarded, as it is also illusion. But, to dissolve and erase illusion, you need the help of another illusion - a thorn to remove a thorn.
We are refreshing your identity with the help of meditation. You forgot your identity, so we are regenerating your power, and reminding you of your true identity, which is invisible and unidentifiable.
After continuous concentration, you will come to know "Oh! I have nothing to do with the body, and I was not the body. I'm unborn." The body is coming and going. The body has age factors, limitations of time. For 'me', there are no limits of time. I am everywhere. My presence is omnipresence.
To have perfection, a perfect foundation, we need meditation. Out of this meditation, you will forget your external identity and your internal identity. You come to know, Yes! this is my Ultimate Truth. My spontaneous invisible presence projected this world. Prior to this beingness, I was not aware at all.
Accept the Reality, your Reality, you are Ultimate, you are the Final truth. Master says you are the Ultimate Truth, Final Truth.
Therefore, first thing meditation, concentration, and involvement, deep involvement. Only then will this knowledge, this reality open up to you. It is the 'Master Key' to enter that house. The master key will open the door to Self-Knowledge.
The Naam Mantra is most important. If you do not have the naam mantra, then use the name of whatever deity you believe in and concentrate. Total concentration is necessary.
Don't struggle with the mind. Thoughts are coming, thoughts are going. Accept those you want and refuse those you don't want.
You have good thoughts, bad thoughts… after a time they are all good thoughts.
Meditation works like an anti-virus software, removing all unwanted files. Through the process of meditation, everything is cleansed and clean and cleared out. With meditation you will arrive at the thoughtless state.
M. At the initial stage, if your body or old age does not permit you to sit in the meditative position, then that's OK. Concentration is most important. Open fact.
You were not the body, you are not the body and you are not going to remain the body. Body is not your identity. That conviction is supposed to appear out of meditation. This is the gist of meditation, the result of the meditation. In that initial stage, concentration is most important.
Meditation will bring Knowledge, your Knowledge.
Just to know yourself in the real sense is knowledge. Just to know oneself in a real sense is knowledge.
You are Ultimate Truth. You are the final truth. Don't play with the words, with the spiritual words. There are thousands of spiritual words.
This is the Master Key, therefore the Master Bhausaheb Maharaj, insisted that beginners first undergo meditation, and then it will become spontaneous.

Take two hours a day for yourself.

One hour in the morning and one in the evening,

or four half-hour slots.
Considering the sensitivity of the spirit, this naam mantra is given. You have to recite the naam mantra. At first you will need to make an effort. Also, because the ego rises, you may have to struggle to keep the mantra going. Issues will surface at the beginning. But then the mantra will run by itself automatically.
The meditation "I am Brahman, Brahman I am" is corrective. It acts as a reminder of who we are and in this way regenerates the spirit. It also cleans out the layers of illusion that have built up since childhood till today.
Remove all these external clothes, all these illusory clothes and see yourself. You are total, complete. Everything is within you. You forgot your identity, that is all. But you have to undergo certain disciplines in the initial stage.
Reading books is not enough. Going to the Himalayas, going here and there. Why?
You have to visit your own site, not someone else's.
First, clean out your own house.
At the beginning, you do have to remember to repeat the mantra, but once you accept your Reality, it will come naturally.
Your Master tells you that you are Atman, you are Brahman, you are God. At the same time, you are repeating the mantra that is impressing the same meaning on you. Eventually, the moment comes when you will accept it totally. But until that conviction is established, you have got to fight.
Accept that you are Ultimate Truth. But until the conviction is there, you must undergo the discipline of meditation. With some people it happens immediately. For others, it takes longer because impressions have not been erased completely.
Everybody has computers and laptops.
All these laptops have viruses that need to be removed.
Similarly, unless your viruses are erased totally,
Ultimate Reality will not be realized.
So meditate with deep and total involvement.