Enquiries via admin@ramakantmaharaj.net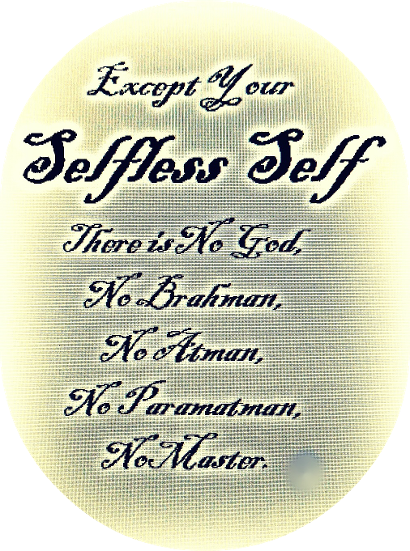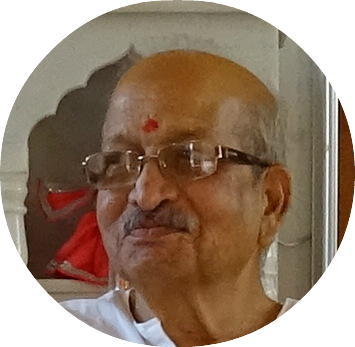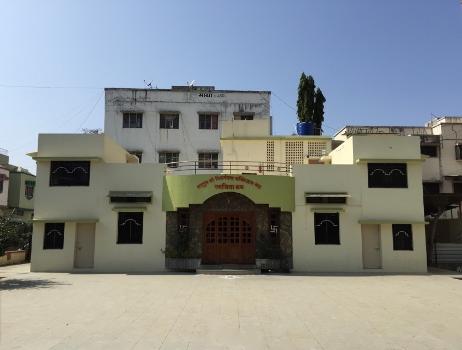 Daily Ashram Schedule
6.30am-7.20am - Early Morning Bhajans (Kakad Arati)
11.00 - 12.00 - Morning Bhajans
17.30 - 19.00 - Afternoon/Evening Bhajans
Meditation.
Maharaj: "These teachings are especially suitable for those aspirants who may feel they are on, so to speak, the 'last stage' of their spiritual journey."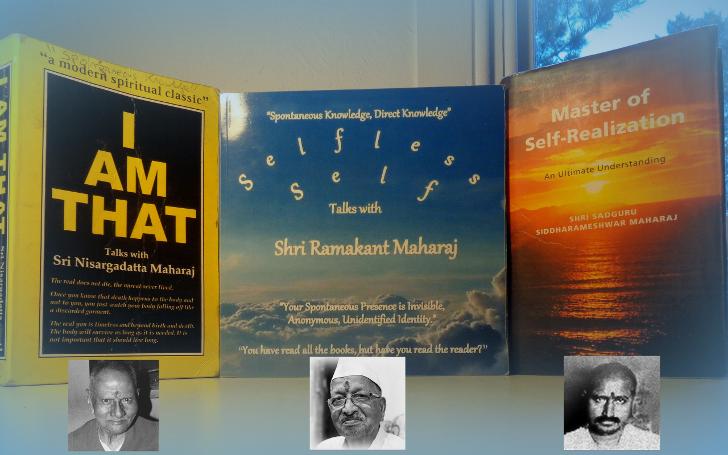 Three masterpieces with teachings from the lineage masters

Selfless Self: Talks with Shri Ramakant Maharaj
This book comprehensively lays out the teachings in a clear and meaningful fashion. These are Lineage Teachings (Inchegiri Navnath Sampradaya) expressed in Maharaj's own unique way, presented with the same force and mastery as its two giant predecessors listed below on this page.
Maharaj: "All your questions will be answered when you read this book, whether you are a beginner or advanced aspirant."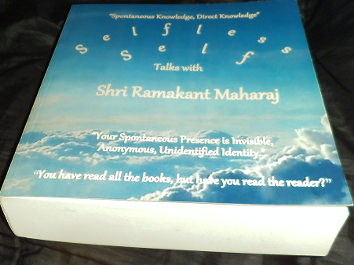 Selfless Self is essential reading. Maharaj requested that all his devotees, and those seekers with interest in his teachings, obtain a copy of Selfless Self, which is THE book of Ramakant Maharaj's undiluted teachings.
This is the clearest and most pragmatic guide-book/manual on Self-Knowledge to emerge in over four decades.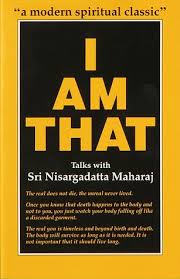 This collection of talks with Shri Nisargadatta Maharaj is a 'modern spiritual classic'. It was compiled in English by Maurice Frydman in the very early 1970s.

Maharaj recommended this as a source book that lays a good foundation for the teachings.

'I Am That' is essential background reading.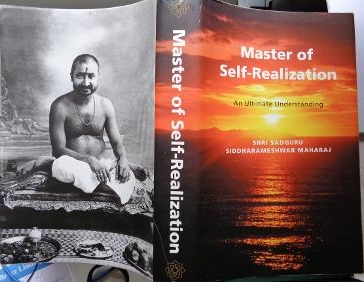 An undiscovered spiritual masterpiece noted down & written up by Shri Nisargadatta Maharaj himself. Very useful.

Two volumes of talks given by Shri Siddharameshwar Maharaj over the last 2 years of his life (d. 1936). Translated by D.A. Ghaisas.

First published in 2006 by
Shri Sadguru Trust
Seekers of truth are welcome to the ashram with prior notice so please get in touch -
email: admin@ramakantmaharaj.net
Dress code guidelines: Please respect local customs. Ladies, cover up.
For gents it is suggested no shorts, or T- shirts in ashram.
Limited accommodation is only available to devotees, and then only on a first come first serve basis. Otherwise there are local hotels - see www.ramakantmaharaj.net/accommodation.php

Did you know?
2 Snippets about the Master, Nisargadatta Maharaj and his disciple, Ramakant Maharaj


1.Nisargadatta Maharaj instructed Ramakant Maharaj:
"Do what you want to do,
and do it alone".
The Master, Ramakant Maharaj, wants "to make seekers enlightened, to share knowledge with them, and to remove them from the illusionary world". To help them with this, the Naam Mantra is available.

2. In the 1970's, Nisargadatta Maharaj visited disciples in Nashik.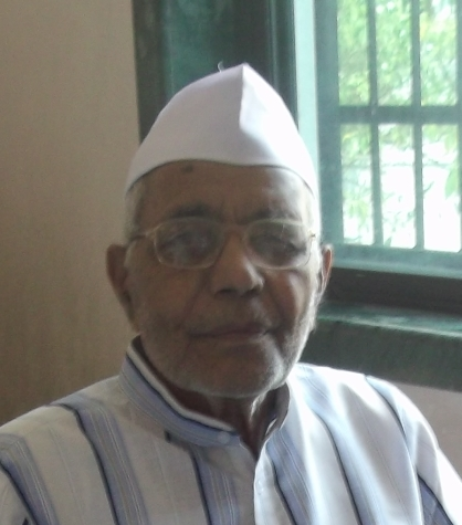 On 25th January, at a disciple's home, Babusav Jagtap (above), Nisargadatta Maharaj made an announcement:
"Treat this day as a Festival Day". In the future, some great and wonderful things are going to happen here in this corner. Build an ashram here! One day, it will become a very busy ashram with visitors from across the globe".
The present ashram in Nashik Road was built in 2002. Every year, a Programme is held on 25th January, following the wishes of Nisargadatta Maharaj. The area is now called 'Jagtap Mala', in honour of this disciple (above), and his Master Nisargadatta Maharaj.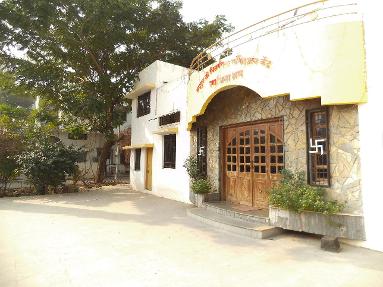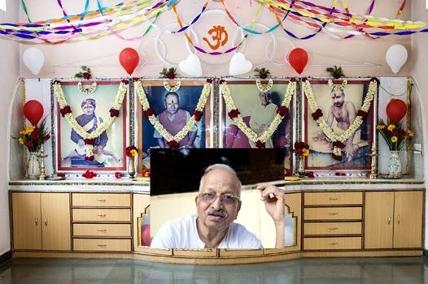 PILGRIMAGE 2015
PATHARI Sholapur and next day 27th Jan will start from Patri to UMDI native place of Bhausaheb Maharaj. Next Nimbargi Native place of Gurulingajangam Maharaj. Then to Hinchgiri Bhausaheb Maharaj Ashram. Next to Nimbal Ashram of Gurudev Renade. Then to Kannur Ganpatrau Maharaj Ashram and will stay overnight.Next on 28th visit to

Bagewadi

Ashram and then to CHIMMAD Ashram On 29th we will go to VITE Sangli Revan Nath Maharaj,our lineage Chief. Then to Kadsiddeshwar Swami Ashram On 30th we will visit PHONDAGHAT Ashram. Next day will visit

Kandalgav Nisargadatta Maharaj Ashran

and will back to Phondaghat, stay overnight. And on the 1st Feb we will visit Shivthar Ghal place of DASHBODH written by Shri Ramdas Swami. 2nd Feb to Mahabaleshwar Ashram, then to Parali Ashram below Sajjangadh and stay night. On 3rd to Sajjan Gadha and then ALANDI Dnayneshwar Maharaj Samadhi and
DENU Saint TUKARAM Maharaj Ashram.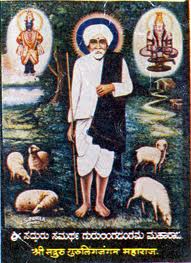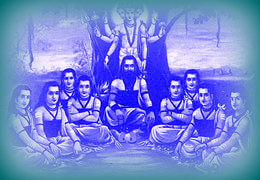 NAVNATH LINEAGE
(NINE MASTERS)
REVAN NATH LINE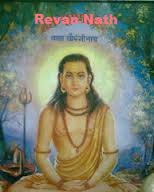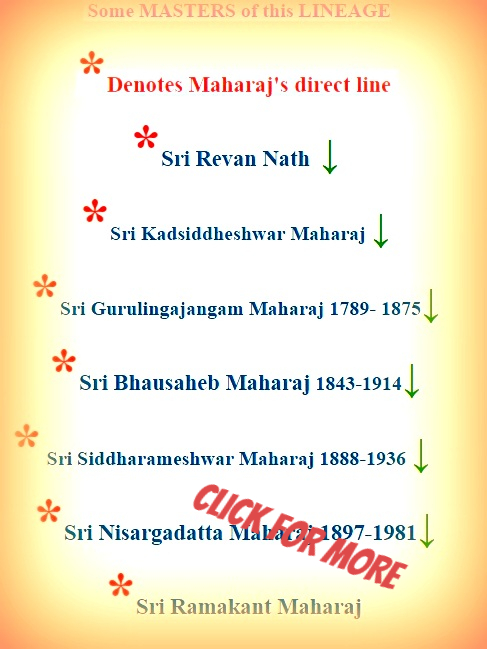 IN THE ABOVE SKETCH OF THE NAVNATH LINEAGE, THERE ARE APPROXIMATELY 12 KADSIDDESHWAR MASTERS WHO FOLLOW AFTER REVAN NATH. HE IS THE LINEAGE CHIEF, AND IS ONE OF THE ORIGINAL NINE MASTERS, HENCE THE NAME NATH.
Shri Bhausaheb Maharaj, founder of the
Inchegiri line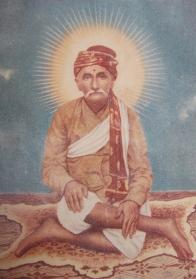 On the left. Gurulingajangam Maharaj. Also known as Nimbargi Maharaj
Address: RANJIT ASHRAM,SADGURU SHRI NISARGADATTA MAHARAJ BHAKTI, DNYAN KENDRA, JAGTAP MALA, NISARGADATTA NAGAR, NASHIK ROAD, 422101
"This should be the end of the journey, the full stop, the terminus."

Dasbodh of Samarth Ramdas.mp3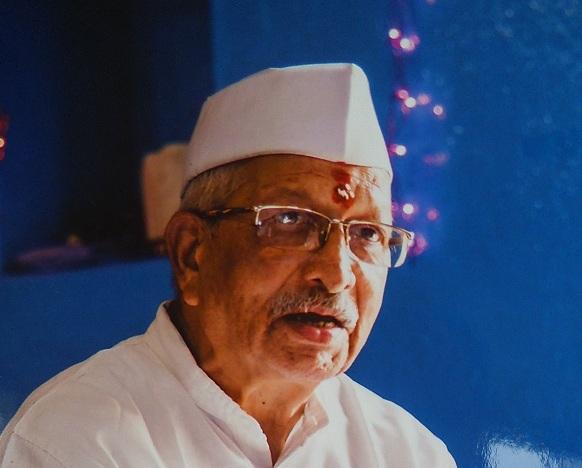 "Nothing happened. Nothing will happen. Nothing is happening"