Accommodation
Visitors are welcome with prior notice, so please email first: admin@ramakantmaharaj.net
Maharaj says "we are providing maximum facilities to devotees staying with our Ashram It's Grace of our Sadgurus"
Enquiries re places to stay: There are two or three rooms in the ashram for visitors now with additional steel beds installed. There may be a bed free, but please do not assume accommodation is available. In addition the roof top terrace is now covered with a roof and there are three tents, cotton bed's available in this area. For the more adventurous traveler, plz bring a small tent, for use under covered balcony area. In this area there are wash rooms, some western toilets, and an Auquaguard Pure Water Machine, a Fridge and solar warm water for bathing. In terms of sustenance there is a local tiffin service at a reasonable amount of Rs60/ per tiffin/lunch.
Best Accommodation at Krupa Hotel!
E-mail Dilip: Hotelkrupa3@gmail.com
Hotel Accommodation can be found in the surrounding area. Unfortunately, it is not guaranteed to be available in the ashram itself. Whatever accommodation decided upon, we generally recommend only to make advance payment for 3 nights accommodation before arrival in India, so as to keep options open. Hotrl Krupa is the hot favorite first choice!
SMALL ASHRAM 3 ROOMS
Check out Hotel Krupa. Theem Plaaza and Utsav Hotels should be fine. Also Hotel Manasi.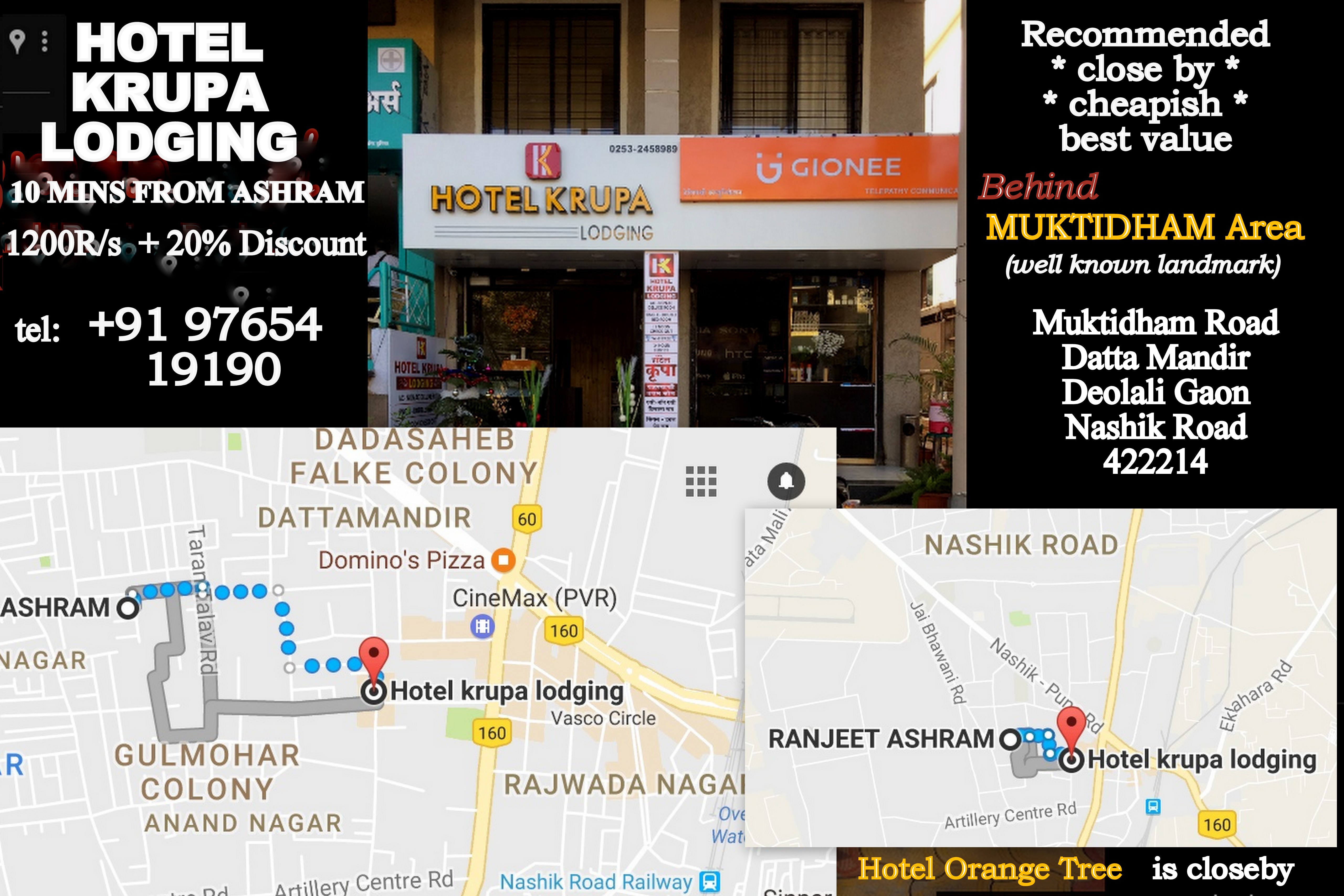 ***** Hotel Krupa Lodging***** shown above. (Best value + Good WIFI). Close to ashram too. Negotiable to under 1200R/-s. Owner is a serious sadhak and devotee. Please email for enquiries and bookings: Hotelkrupa3@gmail.com
3 other hotels mostly used by visitors are Hotel Manasi (is cheapest), Utsav Hotel and the HOTEL THEEM PLAAZA (Manasi, Utsav and TheemPlaaza are all recommended too.) It is not usually essential to book Hotels in advance. A short advance booking would be a good idea and you can always change your accommodation to suit when you get here. Cheaper rates can be negotiated, (if you mention the name 'Ranjeet Ashram' to hotel proprietors and the word 'discount'). THERE ARE USUALLY DISCOUNTS AVAILABLE SO PLZ ASK !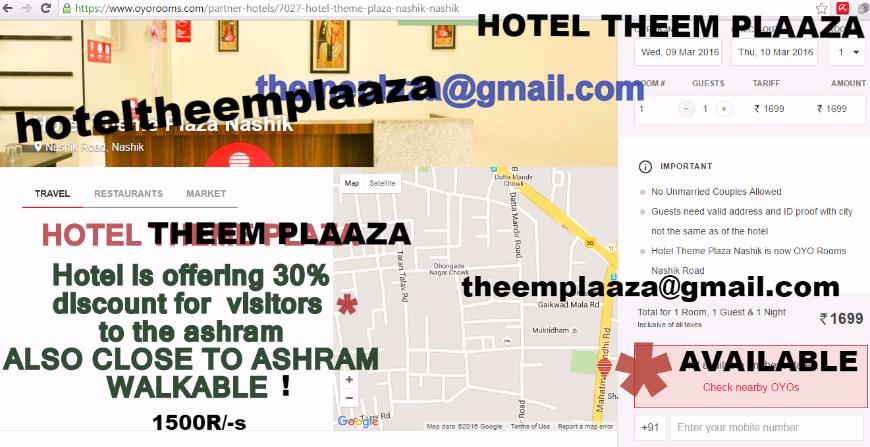 Also recommended (by Maharaj) and recently opened is
Utsav Hotel.

Veg menu. Very comfortable. Not too expensive (1400R/-s)for short visit.*****
RECENT REVIEW MARCH 2017 - POOR: Not good value for money. Wifi only in a lobby. Please note that the UTSAV HOTEL is 20min walking distance, whereas KRUPA HOTEL is only 10min.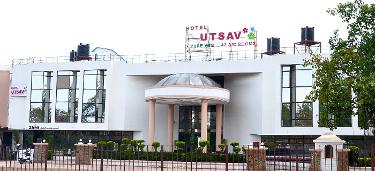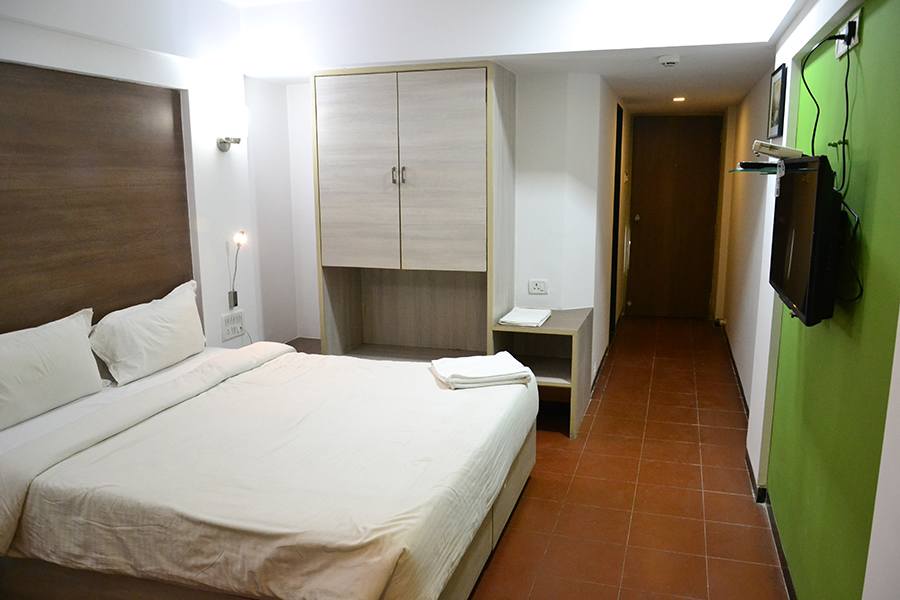 One new Hotel http://hotelutsav.in/index.html opened Near BigBaazar Moll HOTEL UTSAV 42 AC ROOMS http://hotelutsav.in/contact.php Email hotel_utsav@rediffmail.com Types of Rooms Deluxe Singal Room Rs 1400/- Double Room 1600/- Executive Deluxe Room Single Rs.1600/- Double Room 1800/- And Suit Single Rs 2400/- Double 2600/- They are having Veg Restaurant with almost all facilities eg wifi. Check out Time 12 noon Tel 0253 2451302/305 Hotel Manasi Hotel is cheaper For Ashram Rs 600/-Non AC It's near to the Ashram. They Can bargain with the proprietor, this is acceptable.
Short rickshaw ride to ashram.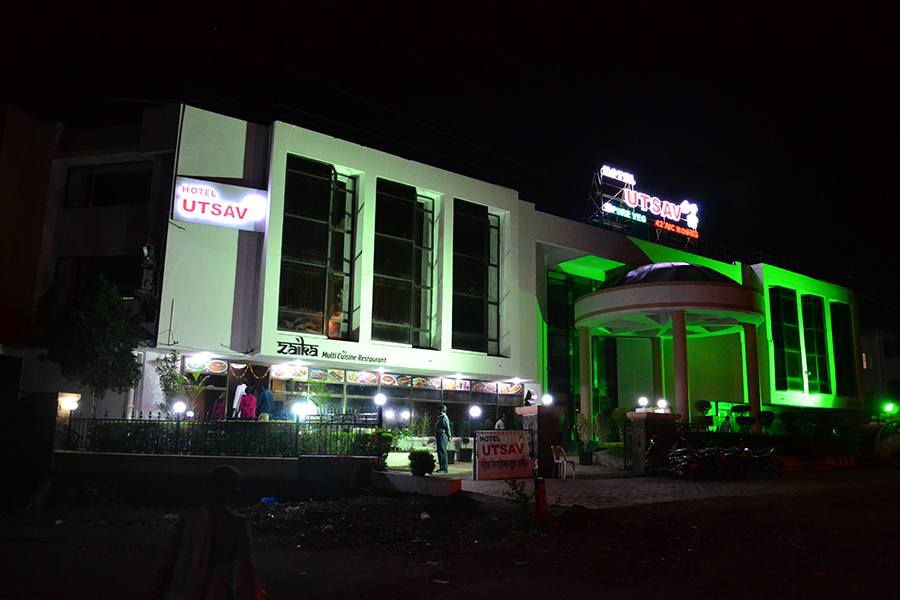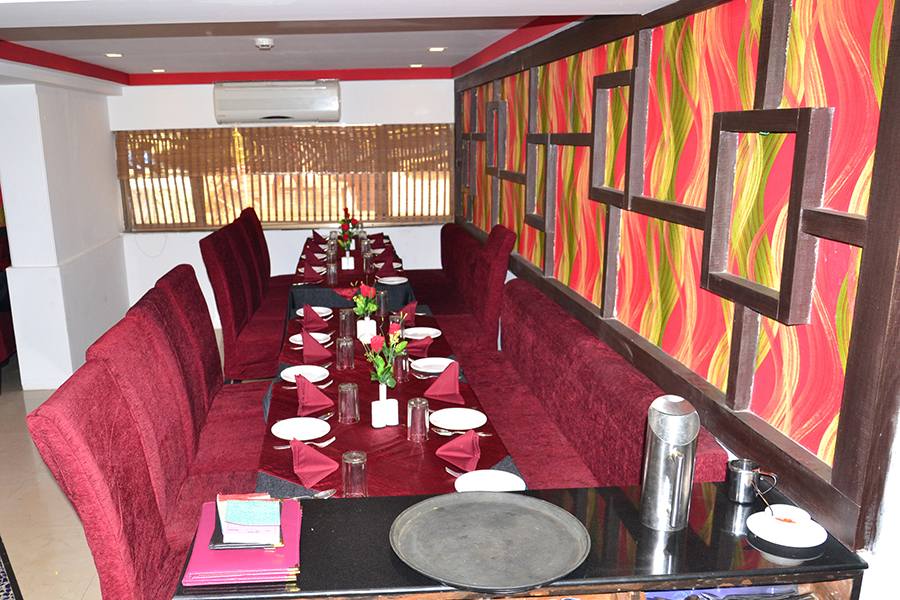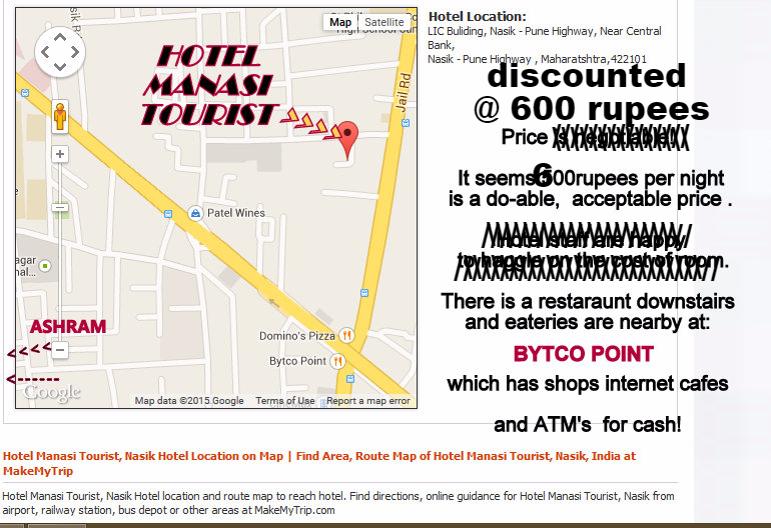 Manasi Hotel Tourist at $8approx. per double room approx. BASIC. Nice rooms with ensuite and balconies - sunny disposition. Discount 25% price of room for devotees/visitors is agreed by the owner @ 600 Rupees from 800R's. In its own way adequate. Cheapest Good value! 3KMS from ashram. Generally NO NEED TO PRE BOOK! Just turn up and pay for room room CASH. We believe no credit cards taken with this budget hotel. Mention you are visiting 'Ranjit' ashram and plz make sure to request discount at desk.
RECOMMENDED for budget travellers:
http://hotelz.makemytrip.com/makemytrip/site/hotels/detail?codd=snew&checkin=01232015&hotelId=20110814111504322&country=IN&city=ISK&roomStayQualifier=1e0e&checkout=01252015
NOT especially recommended for western ladies travelling alone. Is fine if part of a group. BASIC ACCOMMODATION. Apply common sense regarding personal safety. It is a plain and simple hotel. No frills and no dining area but there a few eateries, restaraunt below,and shops nearby. (BIG BAZAR Supermarket a short walk away - Nashik - Pune Highway NH- 50, - with western-style provisions.)
CON: !!!Also be alert and prepared to cross
Big and busy Mumbai - Pune Highway!!!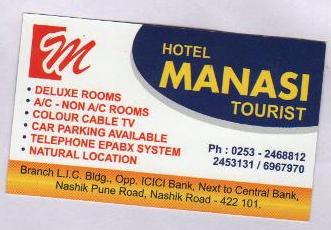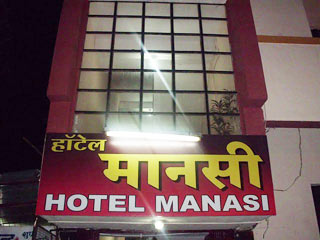 Manasi Hotel has lowest charges Near Ashram HOTEL MANASI TOURIST Contact No.02532468812/02532453131/6967970 Address:Branch LIC Bldg Opp ICICI Bank Next to Central Bank Nashik Pune Rd Nashik Road. Close to Big Bazaar Shop.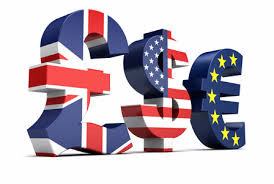 !!! MONEY EXCHANGE !!! Currency can be exchanged with DEBIT/CREDIT CARD at STANDARD BANK ATMS. THERE ARE 2 or more ATMS AND a BANK LOCATED AT BYTCO POINT SHOPPING COMPLEX (beside Prashant Cyber cafe). ALSO 2 ATMS at banks close to NASIK ROAD RAIL STATION. See google maps
These ATMS issue rupees at standard banking rates (with normal commission charges). The atms closest to ashram do not seem to work for westerners. The atms above do! Experience proves that exchanging foreign currency using any individual go-betweens, or money brokers or even using hotels to exchange money is
not
recommended.
If you have brought dollars/euros/pounds then use a reputable bank!
(THIS FROM DIRECT EXPERIENCE!).
NASHIK / NASHIK Road is not an international holiday destination and has no easily found licensed money exchange shops.
For your immediate needs, if arriving from abroad
, MUMBAI INT.AIRPORT HAS ATMS. The Forex booth at the airport is convenient if a little pricey, but fine for immediate needs.
Attention ! To avoid possible Indian Visa Problems!
Suggested Reason for visit: Holiday
Type of visa:
Tourist Visa
Where staying:
Hotel
(eg any hotel listed below).
When giving reasons for visit we suggest not to use words like 'pilgrimage', pilgrim, ashram, charity, work, or investment opportunity or give similar reasons such as 'business interests'. These can raise red flags in the application process and can cause delays or even refusal of visa. We cannot accept responsibility for any refusal of visa. This note is simply advisory.
The most expensive in Nashik Road was Hotel Orange Tree - NOT RECOMMENDED, really bad reviews from devotees March 2017.
Middle of the road and further away is De Rajnigandha is $20 approx. With 10% discount for longer stays. Contact details and rates etc on web site: www.derajnigandha.com Within 2 kilometers of ashram. Autorickshaw recommended to ashram. De Rajnigandha is situated near Muktidam(a big temple complex and a big tourist attraction in Nashik Road) contact tel: 02532458696/02532454576
Mob No. 8483019399
or Mr N.G.Mishra Mob.9156694796
3 or 4 Hotels in NASIK ROAD were looked at. There are others.

Disclaimer: No responsibility can be taken for the services etc provided by the hotels here listed. Please keep in mind when booking that Nashik Road, (where the ashram is located) is itself a township 5 to 6 miles approx from centre of Nashik city.
Deals can be struck with all above for longer stays i.e. over one week +

Hotels near Muktidam: Rajnigandha, and Orange Tree
Telephone numbers etc. on some business cards below.
Another Option: SAI LEELA H0TEL Near Nashik Road Police Station Tel Fax 0253 2461611 Email - hotel- saileela@rediffmail.com
SHANGRILLA Hotel see card below
Hotel Shalimar Inn. Good Hotel with reasonable rent Rs 750/- Non Ac good facilities like free Wi-Fi chek out time 12 noon Phone 02532502600/03 email shalimar.inn2013@gmail.com
8Km from Ashram
Auto Rickshaw to ashram
HOTEL SHALIMAR INN Shalimar Chowk NASHIK Pin 422001