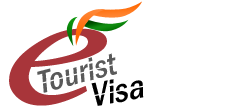 VISA ADVICE: We suggest
that you
DO NOT USE
any of the following words or similar in your visa application for entry into India:
Pilgrim - pilgrimage - ashram - charity work
.
This can cause problems and so you might not be able to get a visa. Suggested simple reasons for visit:
HOLIDAY - Tourist Visa
staying in a hotel such as the
UTSAV HOTEL
or the
HOTEL MANASI
, the Hotel KRUPA, or.
(see accommodation page)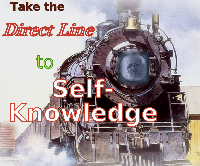 Longitude:19°57'11.4"N Latitude: 73°49'44.2"E
Any travel info. or queries: admin@ramakantmaharaj.net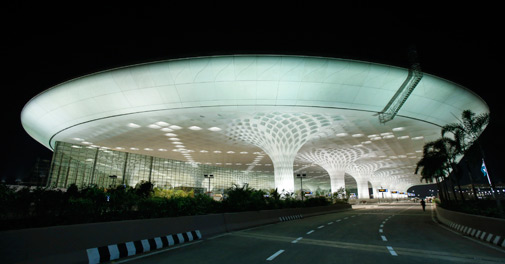 Useful info above on transport links from Mumbai International Airport
MUMBAI CHHATRAPATI INT. AIRPORT
Andheri(East) is nearest train station to INT. AIRPORT. See above link. Prepaid Taxi to centre of city is recommended if stopping @ Mumbai
BUS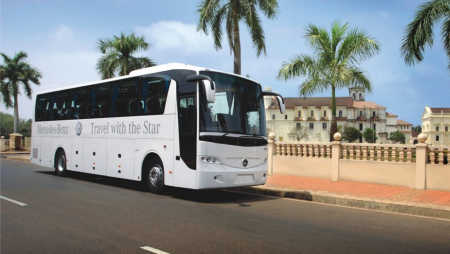 http://www.redbus.in/bus-tickets/mumbai-to-nasik.aspx#!tomorrow
BUS timetable services from Mumbai Bus Stations to Nashik Road Bus Station here above and on other sites. 4-5 hours journey time from Mumbai?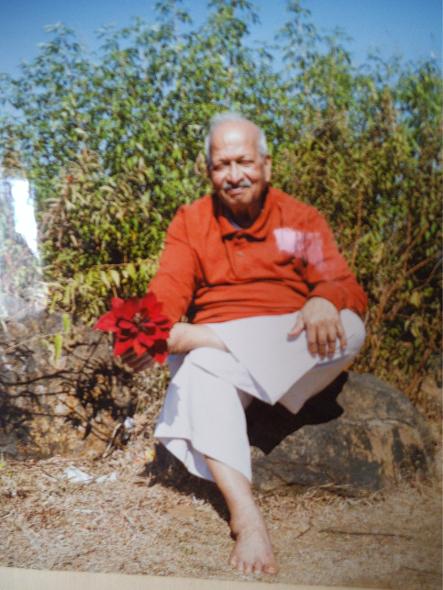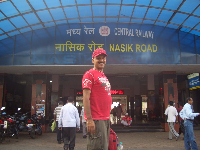 TRAIN
Arriving from within India
Lots of trains from Mumbai, Manmad, Pune, Aurangabad, Kolkata, Delhi, Bangalore, etc stations to Nasik Road (NK) see: http://book.mustseeindia.com/trains?adults=1&date=27%2F07%2F2014&from_city=NK&to_city=CSTM

Nasik Road Rail Station
is approx 2.5 kms from ashram.

Click Google search map above. At station, plenty of available Autorickshaws/taxis to ashram:
approx. 80-130 Rs.(Maximum)

or

Bus Station for arrivals from Mumbai, Aurangabad, Pune etc is beside Nashik Road Rail Station, also close to Taxi stance. 2.5 kms from ashram.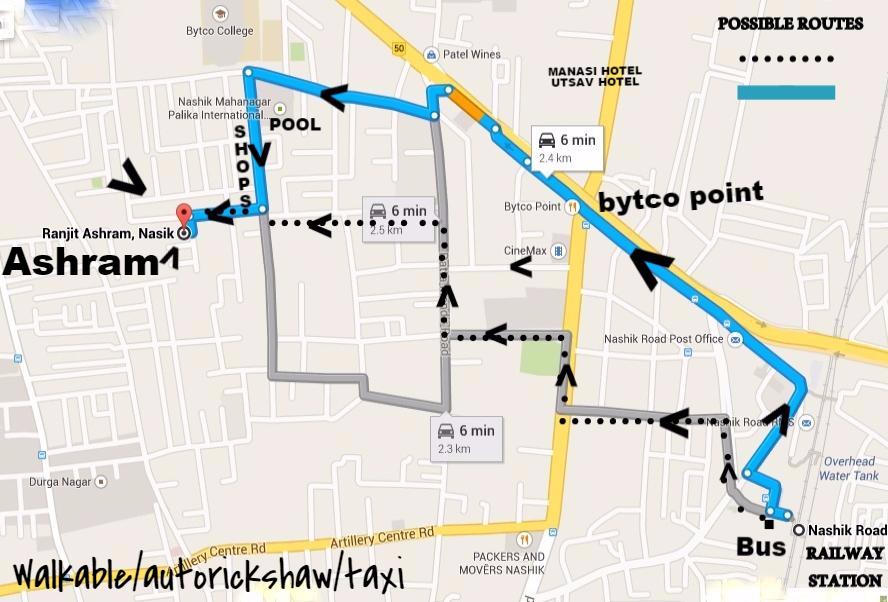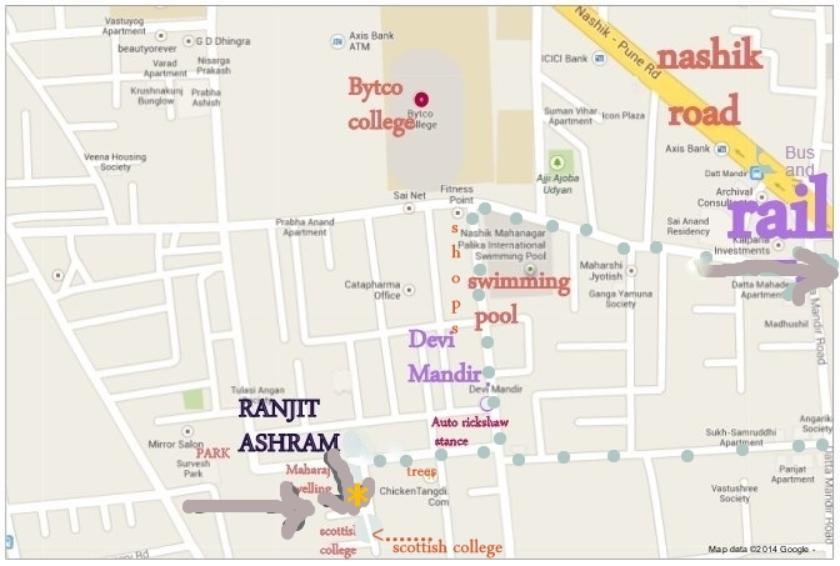 NASHIK ROAD
is a suburb of
Nashik
city
and is actually the size of a big town! It is not a street!
Nisargadatta Nagar
is a small area, and
DZHAGTAP MALA
is the immediate local area/vicinity.
LANDMARKS on route:
'Behind' Bytco College
, big white
swimming pool/stadium
, small shops, turn right past
Devi Mandir, local autorickshaw stance, past bronze painted statue(below),
turn left at
Balaji Wafer
warehouse, follow sign for
'Scots College' for English language
, ashram is 50 mtrs. before this on your right.
BELOW NEARBY BRONZE STATUE AND SIGN